Llanidloes World War One app launched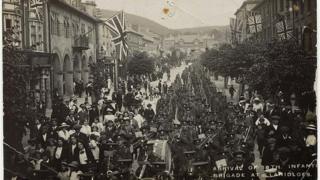 Two local historians have launched a World War One-related app to reveal the experiences of the people of Llanidloes in Powys in the conflict a century ago.
Nia Griffiths and Nick Venti have also found information on those named on four war memorials.
They have uncovered details about 112 of the 115 people named on memorials in Llanidloes, Llangurig, Trefeglwys and Llandinam.
The Arwystli in The Great War project has continued for two years.
"The project started as a hobby because I am interested in family history and Nick's interests lean towards military history," said Ms Griffiths.
'The Somme'
"We decided to research the names of the people who died during World War One who are inscribed on the war memorials and find out more about their lives."
The project involved looking through newspapers of the period, census information and obtaining old photographs and letters of locals people's relatives.
"We have so far obtained photographs of 73 of the people of the area who fell during the great war," said Ms Griffiths.
"Locals have sent us all kinds of mementoes from the 1914 to 1918 period which includes one set of letters from a local soldier who wrote to his mother and was later killed in battle."
Ms Griffiths' own great-grandfather is among the names on one of the memorials.
She said her research revealed the war had caused tension between people living in Llanidloes and those living in the rural areas surrounding the market town.
"Borough councillors had to decide in tribunals who had to go to fight in the war and who could stay because their work here was important to the country," she added.
"People in the town couldn't understand why people working on farms were allowed not to join up at the start of the war.
"But we also uncovered stories of mothers fighting to keep their last son on the farm rather than being sent to the front."
The app for tablets and mobile phones has 25 locations of interest in Llanidloes and the surrounding area with World War One connections.
Ms Griffiths and Mr Venti are members of the community regeneration organisation Llani Ltd which has supported the project.
It has also had financial support from Powys council and the European Rural Development Fund.