Powys council home care changes prompt concerns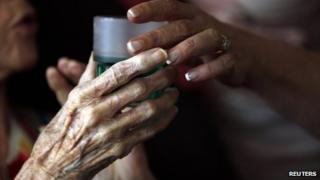 Changes to the way home care is provided in Powys have prompted concerns by carers and those using the service.
Domiciliary care, which is currently provided by about 20 companies, will be taken over by four providers from the end of the month.
Those affected only received notice of the changes two weeks ago.
Powys council said service users and their families were the priority, and it would discuss any concerns.
Domiciliary care is the delivery of personal care and support services to individuals in their own homes.
Under UK government regulations, care workers can automatically transfer to the new providers under the same terms and conditions of employment.
However, BBC Wales has learned that at least 100 staff from one agency have refused to do so.
One of the new providers, Abacare, announced a month ago that it was looking to recruit 150 workers.
On Tuesday it held an event with another new provider, called Reach, to recruit staff and persuade existing care workers to transfer.
Abacare managing director Peter Angelides is confident the company will have enough employees to deliver the care but recognises the difficulties of finding staff and delivering care in one of the most rural areas of Wales.
Experts said that using four providers, instead of a large number of companies, should save the local authority time and money.
But they said that continuity of care was one of the most important factors for older people.
Local politicians said that recruiting so many staff in such a short space of time and in a rural county would be difficult.
There are also fears that the changes will mean that people who depend on Welsh-speaking carers may lose out.
Responding to people's concerns, Powys council said that service users and their families were the priority during the transfer process.
"Service users have been notified that their care agency may change and offered the opportunity to discuss any concerns they may have with the council, and will also be notified again when any change is about to happen," said the council.
The council also said that in the past, vulnerable adults in the more rural parts of Powys could see a number of different care workers and have introduced a target in the new contract to ensure people could see the same care workers.