Citizens' Advice Bureau office in Aberystwyth to close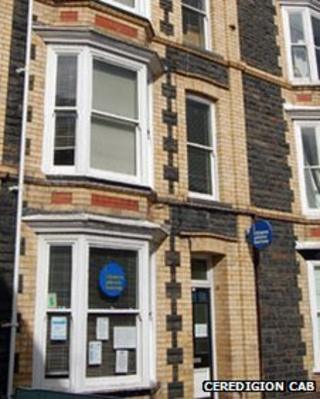 Ceredigion Citizens' Advice Bureau will close its Aberystwyth office in June in the wake of funding cuts.
The charity's board is now looking to base its services in three or four different locations in the town.
The move has been taken after funding cuts of £80,000 - more than half its budget - took effect this week.
The charity, which dealt with 12,000 inquiries last year, will still run an office in Cardigan and outreach services in three other major towns.
Ceredigion CAB was formed four years ago when the Aberystwyth and Cardigan bureaux merged.
The bureau's board of trustees have decided to restructure the service by developing a "hub and spoke" model.
Booking appointments
Paul Hinge, chairman of Ceredigion CAB, said: "After looking at many scenarios the decision was to close our Aberystwyth office as a permanent building but still operate our services within the Aberystwyth area utilising other agencies.
"We will still provide outreach services in Lampeter, Aberaeron and Tregaron but we will have to stop our open door policy in Aberystwyth.
"When the office closes at the end of June people will have to make an appointment by phone to be seen by our officers."
The cost of running the two offices in Ceredigion is £152,000 a year but Ceredigion CAB's grant funding and donations have dwindled to £70,000 for the next financial year.
In neighbouring Powys, the county council decided in March to cut its funding to Powys CAB in the next financial year by 15% after the authority had initially considered halving its funding of £93,580.
Powys CAB had handed in a 5,000-name petition, saying the cuts could leave Powys as the only county in Wales without CAB services.