Llanfyllin's Lonely Tree in mix for European nomination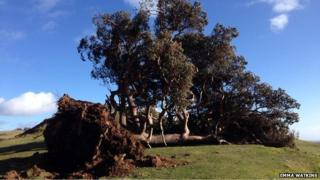 A Powys landmark known as 'The Lonely Tree' is in the mix to be Wales' representative in next year's European Tree of the Year competition.
The Scots Pine had surveyed the Llanfyllin landscape for at least 150 years but was brought down by 100mph winds that battered Wales in February.
A committee set up to manage a fund to try and save the tree is also about to publish a book on its history.
It also aims to plant a new sapling near the felled tree.
The town council decided to try and save the tree by covering two 'tap roots' keeping it alive with 30 tonnes of soil.
The tree is also being fenced off to keep hungry sheep from eating its leaves.
Good Friday
It is hoped that it may also trigger what is known as a 'phoenix' reaction - where the tree is regenerated.
The tree will have to be left for a year to see if another sapling starts to grow.
A committee set up to manage an appeal fund are considering a number of initiatives including a new footpath, an information board or bench placed near the tree.
The tree lies on land owned by the family of town and county councillor Peter Lewis, who is a member of the Lonely Tree committee.
He said: "We are considering planting a new Scots Pine sapling near the fallen tree as well as commemorating the history of the old tree."
Fellow committee members Pauline Page Jones, Richard Kretchmer and Dave Goodman have also written a 50-page book on the tree's history and importance to the town which will be launched on Good Friday.
Hug
"There is a tradition of people having a picnic by the Lonely Tree on Good Friday which is an appropriate date to launch the book," said Mrs Page Jones.
"The money raised from book sales will go towards paying for the specialised fencing needed to protect the tree from sheep when they go back onto the hill after lambing."
The tree is such a well known landmark in the area that it is used as part of the logo for the town council's website.
According to local tradition, anyone planning to walk up Green Hall Hill should ensure they visit the tree and give it a hug.
The town council has also consulted "tree hunter" Rob McBride, who is a campaigner for the protection of veteran, heritage and ancient trees.
He said: "The tree has been put forward to the Woodland Trust as Wales' possible entry into the 2015 European Tree of the Year competition.
"I think it would be a wonderful entry for Europe's most lovable tree."