Aberystwyth businesses call for town car park takeover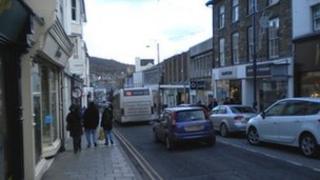 Aberystwyth Chamber of Commerce has called on Ceredigion Council to take over responsibility of a private car park to boost town centre business.
Business leaders claim the two-hour waiting restriction at Rheidol Retail Park is affecting trade in the seaside town.
Shoppers are fined £85 for staying too long at the car park.
The company that runs the car park at the site say parking management is the responsibility of the landowner.
The council said it could not comment as the car park is on private land.
Eirian Reynolds, the chamber of trade's secretary, said it was difficult for shoppers to park close to town centre businesses.
'Flexibility'
He added that the parking system art Rheidol Retail Park did nothing to encourage shoppers to spend money on the high street.
The chamber want to see the park transferred to the public sector to give shoppers the choice of how long they want to stay in the town centre.
The car park is run by ParkingEye. Its system involves a camera taking a photograph of car number plates on arriving and leaving the park.
Shoppers who stay longer that two hours are sent a notice by post that they will be fined £85.
"The system at the park doesn't give shoppers enough flexibility to give them the option of walking into town and spending money on the high street," said Mr Reynolds.
A ParkingEye spokesman said the company is a member of the British Parking Association's (BPA) approved operator scheme.
He added: "Members of the BPA are required to follow a Code of Practice that is supported by the AA and the DVLA.
"ParkingEye's parking charge, which is well within BPA guidelines, only becomes payable when users exceed the free parking limit.
"We understand that genuine mistakes are sometimes made, however, and we operate an audited appeals process, encouraging people to appeal if they feel there are mitigating circumstances.
"However, ParkingEye may take car park users to court if they ignore a parking charge.
"ParkingEye doesn't own the Rheidol Retail Park car park in Aberystwyth.
"Instead it acts as a service provider to the owners of the car park and is therefore not in a position to comment on the enquiries raised about the regime currently in place at the site or any suggested changes to it."