Ceredigion fuel syndicate plan to tackle rural poverty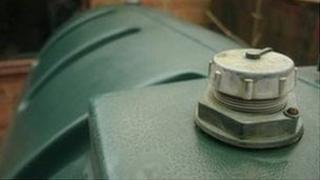 A pilot project to develop a county-wide network of fuel buying groups in Ceredigion has been launched by the Welsh government.
The 18-month project led by the county council will encourage householders to bulk-buy oil.
It aims to help them save up to £150 on their fuel bill each year.
If successful the model could be used to increase the number of fuel syndicates in other parts of Wales.
The initial aim of the project will be to work with existing oil syndicates.
The scheme will try and support and further develop these in order to maximise the benefits of the bulk purchase of oil.
Fuel poverty
Ceredigion council said there are about 600 people are already involved in about half a dozen oil buying syndication schemes.
New syndicates could also be developed in areas without any schemes.
Councillor Gill Hopley, Ceredigion's anti-poverty champion said: "With the existing syndicates saving between four and nine pence per litre of oil for their members there is potential for many more householders to benefit from these savings by being a member of an oil syndicate.
"In a rural area such as Ceredigion you are twice as likely to be living in fuel poverty than if you were living in an urban area.
"We need to work together to maximise the savings that householders can make on their energy bills."
Natural Resources Minister Alun Davies who launched the project, said it would help cut fuel bills for rural communities.
He added: "I look forward to seeing the impact of this project on the people of Ceredigion and whether this model can be used to increase the number of fuel syndicates in other parts of Wales in the future."