University CCTV partnership plan to tackle crime in Lampeter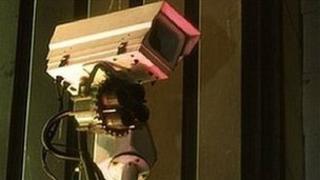 Future CCTV provision to tackle crime in Lampeter could be secured by a partnership between the town council and a local university.
Councillors have decided to forge ahead with a project to try and continue the surveillance camera service.
Aberystwyth, Cardigan, Aberaeron and New Quay councils decided not to pay for CCTV coverage from 1 April.
Lampeter will be the only Ceredigion town to run the service if the plan goes ahead.
Earlier this year Ceredigion council decided to stop funding the system to save £150,000.
It was part of its aim to plug a budget deficit of £9.6m during the next financial year.
'Feel safer'
The local authority then asked the five community councils with cameras if they were willing foot the CCTV bill from 1 April.
Lampeter councillors decided they were prepared to pay up to £15,400 for a 12-month contract to continue CCTV coverage for the six cameras there.
It has contributed £7,500 towards the CCTV system during the last financial year.
The town council has started discussions on future CCTV provision with University of Wales Trinity St David, which has a campus in Lampeter.
Speaking after a meeting on Thursday, ouncillor Rob Phillips said: "We are keen to carry on with the service if possible because even though we are an area of low crime the presence of the cameras makes people feel safer."
Ceredigion council had agreed not to dismantle the town's CCTV cameras for a month to give the town council time to put a plan together.
Security staff
"We have to sort out legal and financial constraints but if we can keep the cost below £15,000 we will take over the service," said Mr Phillips.
One supervisor and two operators based at Aberystwyth have monitored the 23 town centre surveillance cameras in Ceredigion but that will cease on 1 April.
Mr Phillips said: "Part of the ongoing discussions with the university is the possibility that campus security staff could monitor the cameras."
Last week Ceredigion, Carmarthenshire and Pembrokeshire councils were asked to help fund a review of CCTV services to tackle crime in the Dyfed-Powys area.
Police and Crime Commissioner Christopher Salmon said the police and the local authorities would benefit from a "more consistent" provision of CCTV to tackle crime
The cost of the review would be split between the councils and the force, he added.
University of Wales, Trinity St David has been asked to comment.