Search for Spanish Civil War archaeology dig volunteers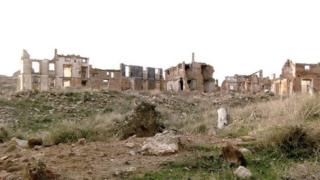 A Ceredigion archaeologist is looking for volunteers to join a new International Brigade to work on a dig at a Spanish Civil War battlefield.
Salvatore Garfi, from Pontrhydygroes, set up the International Brigades Archaeology Project (IBAP) earlier this year.
He aims to take a team to Spain later this year to study the archaeological remains of the war.
About 30 volunteers have so far expressed an interest.
Mr Garfi will work with Spanish archaeologists and volunteers from different countries at the town of Belchite in north east Spain in September.
The project will take several years to complete, he said.
Loyalist Spanish Republican and General Franco's forces fought a fierce battle in and around the town in 1937.
Homage to Catalonia
A new village of Belchite was built adjacent to the ruins of the old, which remains a ghost town as a memorial to the war.
"We will be studying the landscapes of the town and the materiality of the war imprinted on the land," said Mr Garfi.
"There will be excavations, building recording and a landscape area survey.
"We will be able to compare our findings with the written evidence of the battle so we can question the truth of these accounts.
"For example, there may be written accounts of fighting in one area where there are no archaeological signs, while the archaeology might indicate hostilities in other, unknown areas, or parts of the town.
"We will work together to create a holistic view of what happened at Belchite."
About 4,000 people from Britain and Ireland went to fight fascism in the Spanish Civil War between 1936 and 1939 according to National Archive files.
They included writer George Orwell who recounted his experiences in his book Homage to Catalonia.
'International Brigades'
The dig is part of The Spanish Civil War Archaeology Project based in Spain, which was set up in 2006.
The types of sites studied, to date, include battlefields, prisons and concentration camps, monuments and mass graves.
"The bulk of the fighting at Belchite by loyalist troops was done by English speaking sections of the International Brigade from Britain, Canada and America," said Mr Garfi.
"A non-Spanish audience might, perhaps, dismiss the conflict as being of importance to only the Spanish people, but that would be a mistake.
"These remains are not just important to Spain, but to the world, and to the people of those other countries whose citizens went to Spain to join the international brigades."