Powys vaccination plea to dog owners over killer virus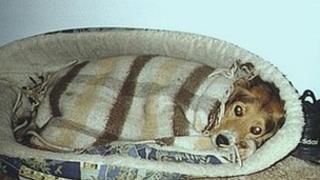 A vet has urged dog owners in north Powys to vaccinate their pets after an outbreak of distemper in the area.
Mark Overend of Cain Veterinary Centre in Llansantffraid-ym-Mechain said he had treated four dogs who had died of the viral disease since December.
Distemper is a contagious disease that can kill dogs if they have not been vaccinated.
The Welsh government said it was not aware of a rise in distemper cases across Wales.
Mr Overend said this was the first time he had treated so many cases in such a short period of time in the 24 years since he had qualified as a vet.
He added: "There was a greater uptake of dog vaccinations after the parvovirus disease emerged in the 1980s which also resulted in a drop in the number of distemper cases.
"But vaccination levels have dropped due to complacency in the last few years which means that contagious diseases like distemper can spread amongst dogs again.
"The increase in distemper cases is very worrying and frustrating because although it is often fatal it is easily prevented by getting the dog vaccinated."
The early signs of disease involve a fever with the dog being unwilling to eat.
This is followed by vomiting and diarrhoea,
Rabies vaccination
In the later stages of the disease, dogs may develop respiratory symptoms with a cough, a runny nose and eyes which can develop into pneumonia.
Death can occur at any point during the disease.
Mr Overend said another method to try and eradicate the disease in the UK would be to force dogs entering the country to be vaccinated for distemper as well as rabies.
He added: "At the moment the Pet Travel Scheme only insists on the dog having a pet passport, microchip and rabies vaccination before coming into or leaving the country.
"This leaves the door wide open for diseases like distemper to spread into Britain."
A Welsh government spokesman said: "We are not aware of an increase in the number of distemper cases in Wales."