Somerset flooding prompts Cardigan farmers to send fodder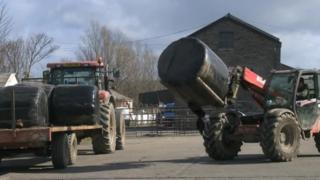 A consignment of animal fodder from farmers in Cardigan is going to Somerset to help farmers still affected by flooding feed their animals.
About 90 tonnes of donated hay and silage are heading for Sedgemoor market for distribution to farmers struggling to feed stock.
The Farmers' Union of Wales has organised the delivery.
County chair Aled Rees said it repaid English farmers who helped snow-hit colleagues in Wales a year ago.
Somerset was one of the worst hit counties in last month's devastating flooding and farmers need at least 12 months of supplies because fields have been badly affected.
Farmers in the Cardigan area donated the feed on Sunday morning and it will be transported for free to Somerset on Monday.
Mr Rees said it was very important to help other farmers in the current crisis.
"They don't have the option of turning the animals out because the water hasn't been receding as they thought it would and where it has receded there's an awful mess there.
"The grass has rotted away, there's all sorts of debris on the fields, fences have washed away, there's quite a bit of mess down there.
"And it is the time of year where people normally turn stock out onto fields and close fields off for silage and hay."
'Glad' to help
Fellow farmers had been generous in donating fodder, he said, and the gesture was a way of repaying the favour when farmers from England helped those in mid and north Wales who were hit by unseasonal heavy snow exactly a year ago.
"We had a good summer last year in this part of the country and the farmers that have donated the bales. There's no set amount. Some have donated up to 10 and 15 bales," said Mr Rees.
Geraint Morris, a farmer and hay merchant from Llechryd, is driving some of the fodder to Somerset.
"A lot of people locally have given the fodder for free and we're giving the transport for free," he said.
"They can't feed stock on fresh air so it's fodder they need down there and that's what we're taking.
"We're only glad we can help really. We'd like to think that if we were in the same situation people would do the same back."