Dylan Thomas's great-uncle's chapel wins grant for restoration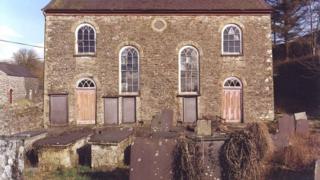 An 18th Century chapel where the great-uncle of poet Dylan Thomas preached is set to be restored to its former glory.
Llwynrhydowen Unitarian chapel, a Grade II listed building near Llandysul, Ceredigion, has been awarded £285,000 in grant funding for renovation.
The project will also develop a virtual museum recounting the story of Nonconformity in Wales.
It will also be included in a new faith trail leaflet telling the story of Unitarianism.
Yr Hen Gapel (The Old Chapel), opened in 1733, was the first Arminian chapel in Wales and is known as "the mother chapel" of Welsh Unitarianism.
For more than two centuries it was at the heart of a rural, radical Unitarian community dubbed "the Black Spot" by its opponents for its resistance to Calvinist theology and Tory politics.
Chained gates
Declining congregations and condition of the building meant that it was transferred to the Addoldai Cymru Trust in 2008.
But one service a year has been held at the chapel every Christmas Eve for the past three years.
The congregation was evicted from the chapel in 1876 by the owner of the land on which the chapel was built, John Davies Lloyd of Alltrodyn Mansion.
He chained the chapel gates after worshippers failed to vote for him at an election.
The minister Gwilym Marles, great-uncle of the poet Dylan Thomas, had been vocal in the opposing Liberal cause and preached to a crowd of 3,000 people at the roadside with his back to the chained gates of the chapel.
A national fund-raising campaign saw a new chapel built nearby for the congregation which opened in the same year as the minister's death in 1879.
His great-nephew Dylan Thomas's middle name, Marlais, was given to him in memory of the minister, who is believed to have inspired the character of the Reverend Eli Jenkins in the play Under Milk Wood.
'National heritage'
Addoldai Cymru is a trust set up to save historically redundant Welsh chapels.
Chairman Dafydd Owen said: "This is a most significant development in Addoldai Cymru's ongoing programme to secure this unique part of our national heritage."
The restoration project will include a web-based resource in partnership with the Royal Commission on the Ancient and Historical Monuments of Wales (RCAHMW).
The RCAHMW will create 360 degree animations which will enable people to go on a virtual tour of Llwynrhydowen chapel and three others on Addoldai Cymru's new website.
It will also house the RCAHMW Chapels' database of over 6,500 chapels.
The grant funding includes contributions of £84,100 form the Heritage Lottery Fund and £67,451 for the Digital Tourism Framework programme.