Erwood bridge re-opens early after seven month closure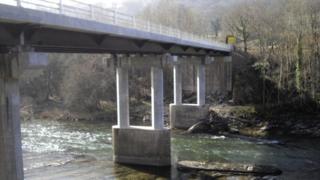 A bridge spanning the River Wye in Powys which has been closed for seven months will be re-opened later after nearly £1m of improvement work.
Erwood bridge, near Builth Wells, has been shut to motorists since the Royal Welsh Show in July last year.
Powys council said the work had been finished three months ahead of schedule and within its £960,000 budget.
But the nearby Erwood Craft Centre says its takings have halved since the closure due to traffic diversions.
Based at a former railway station, the centre claims to support more than 100 Wales-based artists and crafts people.
Michael Cunningham, who runs it, said the centre had survived "by the skin of its teeth" because of reduced visitor numbers caused by traffic being diverted up to nine miles due to the bridge closure.
Dance celebration
He added: "This has been a horrible time for us and visitor numbers and takings have halved in the seven months since the bridge has been closed to traffic.
"But I am happy the work has finished three months ahead of schedule."
Mr Cunningham said the centre would mark the re-opening with a choreographed dance on the bridge by Mid Wales Dance and the Young Farmers' Clubs on Saturday.
John Powell, Powys council's cabinet member for highways, said the strengthening and refurbishment work had avoided the need to put a weight limit on the bridge.
He added: "We understand these works have caused disruption to the local community and I would like to thank residents and businesses for their patience while the works have taken place.
"Any decision to close a bridge for a prolonged period is never easy but these were essential works.
"If they had not taken place, it may have been necessary to apply a weight limit on the bridge or, in the future, it could have closed altogether."