New Quay library in Ceredigion to be managed by volunteers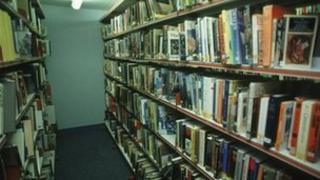 A Ceredigion library threatened with closure has been saved after 25 people volunteered to help run it.
Ceredigion county council's cabinet has agreed to lease New Quay library to the seaside town's council for 12 months at a peppercorn rent.
The county council will review the rent if the town council takes up the option of extending the lease to five years.
New Quay library was due to be replaced by a mobile library. Negotiations are continuing to save Tregaron library.
Both libraries faced closure under Ceredigion council's drive to tackle a budget deficit of £20m over the next three years.
'Discussions'
A 600-signature petition opposing the closure of New Quay library resulted in 25 volunteers coming forward to help run the facility, which is open for 10 hours over four days of the week.
Gill Hopley, a Ceredigion councillor representing New Quay, said: "It is good to see that the people of New Quay have worked together to keep the library open in difficult times."
Another plan to keep a library open has also been hatched in Tregaron.
Locals were told the town's librarian would be moved to work in Aberystwyth when the library closes in April.
But a public meeting in Tregaron decided to ask council officers to let the librarian work there three times a week with volunteers taking over for the rest of the time.
Catherine Hughes, a county councillor for Tregaron, said: "Discussions are ongoing with the county council to keep the library open three days a week."