Brecon Beacons potting shed on sale for £450,000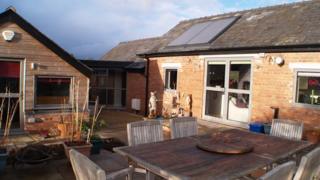 A derelict potting shed and greenhouse that have been transformed into a luxury cottage are up for sale with a £450,000 price tag.
The ruined Victorian buildings near Talgarth, Powys, were once home to squirrels, mice and birds but no-one had ever lived there.
But that changed when Trevor Thompson, 52, spotted the old gardening sheds while out walking one day.
Now he has decided to put the five-bedroom property on the market.
Mr Thompson and his wife Suzanne sold their home and moved their five sons into a caravan on the plot to start work.
Three years later the project was finished and the family moved into their new home, which they called The Market Garden.
Mrs Thompson, 51, said: "He came home that day with a certain look in his eyes.
"He'd seen the land and the buildings and fallen in love."
She went with him to the old potting shed and greenhouse in the Brecon Beacons National Park and was bowled over.
"We bought the house for £200,000 at auction and started the process of applying for planning permission," she said.
"The national park had agreed plans for a two-bed bungalow but we wanted to extend further.
"It was a real family effort and I'm so proud of how the boys helped.
"We lived and breathed the conversion for three years. We envisaged our dream home and knew all the hard work would get us there in the end."
The couple and their sons, twins Lee and Gary, 26, Danny, 23, and Jake and Zak, 18, who are also twins, lived at the cottage for six years.
But the Thompsons are now putting the property on the market after the oldest boys left home.
The couple are looking for a new project in the area, which will mean them moving into a caravan again.
"People think we are mad but the new project will hopefully clear our mortgage and give us a bit of financial freedom," Mrs Thompson said.
"Trevor is brilliant at what he does and I'm excited to start building our new home with him at the helm."
McCartney's Auctioneers and Estate Agents, which is selling The Market Garden, describes the Thompsons' home as a "unique property and a rare opportunity to purchase a one-of-a-kind conversion".
A spokesman said: "The property has literally grown out of an old potting shed.
"When you look at the old photographs it's a remarkable conversion and will make someone a lovely new home."