Powys councillors agree £20m budget savings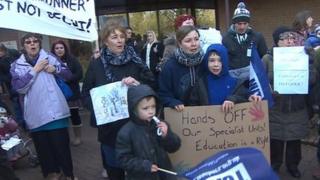 Controversial plans to save around £20m have been approved by councillors in Powys.
The budget meeting decision also means about 400 posts will be lost at the authority.
It comes a week after councillors failed to agree a budget at a seven-hour meeting which was disrupted by protesters.
Councillors also agreed to increase council tax by 4.5% at the meeting in Llandrindod Wells.
The council is trying to identify ways of saving nearly £20m in 2014/15, and £40m by April 2017.
During the meeting councillors agreed to scrap meals on wheels, which saves £86,000. They also cut public transport funding by 75%, reducing spending on it to £500,000 from £2m.
Council funding to the Citizens Advice Bureau (CAB) in the next financial year was cut by 15% after the authority had initially considered halving its funding of £93,580.
Powys CAB had handed in a 5,000-name petition, saying the cuts could leave Powys as the only county in Wales without CAB services.
The organisation claims its offices in Newtown, Brecon and Ystradgynlais are under threat with 22 full and part-time staff facing redundancy.
Council leader Barry Thomas said: "This year's budget has been one of the hardest ever for the council with a significant cut in funding and ever-increasing service pressures resulting in the need for a £20m reduction in spending.
"Reducing our spending by such an amount was never going to be easy and our budget proposals were always likely to attract some criticism. But we have to balance the needs of providing statutory services such as education and social care alongside those that are socially desirable, while taking into account the county's ability to pay.
"As part of this year's budget discussions we held budget engagement events across the county and shared our proposals with group leaders and all elected members as early as possible so that they could appreciate the scale of the challenges facing the council."
A full council meeting on 25 February had to be adjourned without a vote after a seven-hour session, although a decision was taken to shelve plans to cut special education services and to raise day care centre charges.
Security officers
About 100 demonstrators gathered outside County Hall in Llandrindod Wells, and a small group entered the council chamber and were removed by police.
At Wednesday's meeting, there were more security officers. Only 25 members of the public were allowed in the chamber, with a further 25 in a committee room where the meeting was shown on a big screen.
Last week's meeting was adjourned to allow leaders of different groups to thrash out new proposals with cabinet members.
Meanwhile, Vale of Glamorgan council has agreed to cut of nearly £5m from its budget with the possibility of job losses.
Among the saving measures agreed were cuts to the music tuition budget for schools, reducing the money available for library provision and cuts to the numbers of homeless people who qualify for bed and breakfast accommodation.
It also plans to increase fees for wedding and civil partnerships, sell off some adult day centres as well as increasing the hours of waste collection.
Energy saving measures will be introduced on street lighting, youth services will be centralised and the cost of school meals will increase.
Councillors also agreed on a 4.5% increase in council tax.