Cardigan health centre work 'to start in 2015'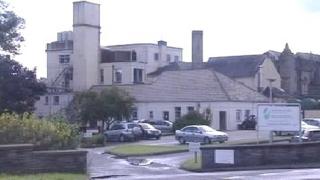 Work on a new £15m health centre in Cardigan must start in early 2015, the health minister has said.
Mark Drakeford has pressed Hywel Dda Health Board to commit to a timetable for replacing the existing community hospital.
The health board confirmed it intends work to start next April.
In December it announced the Cardigan hospital would only treat outpatients from March.
Opponents to the closure of inpatient beds at the hospital submitted a 11,042-name petition to the Welsh assembly in January.
Campaigners wanted the decision overturned and also called on the health board to step up its plans for the new centre which includes a GPs' surgery.
'Massive improvement'
Beds for inpatients are now being provided in nursing homes in the area.
A Welsh government spokesperson said: "The health minister has asked Hywel Dda Health Board to confirm our understanding that an Outline Business Case for a new integrated healthcare facility in Cardigan will come to the Welsh government this July.
"Subject to the minister's approval the health board will then be in a position to submit the Full Business Case for consideration to enable a start on site in April 2015."
Hywel Dda Health Board said the re-provision of inpatient services would "ensure safe and sustainable care for patients in the future".
Chief Executive Trevor Purt said the facility will be a "massive improvement".
"We want to make it the centre for running out-of-hospital services. The new facility will have outpatient clinics, a centre for GPs and district nurses, diagnostics, physiotherapy and a pharmacy.
"There are no plans to close Cardigan hospital until the new services are in place," Mr Purt said.
Community care
Local district nursing teams attached to the GP practices will co-ordinate services, including admissions, and will be supported by community and therapy services.
"Nursing staff will be redeployed to deliver care within community settings and support the future model of care," he said.
Catrin Miles, a Ceredigion county councillor representing Cardigan, said the health board would have to provide an option of providing inpatient beds when they submit the outline business case.
She added: "They will have to do this because they don't know if their current project to provide beds in the community will work.
"Awel Deg residential home is closing 18 miles away at Llandysul so it's possible that other homes could close."
The new health centre is part of the £50m Bath House project in Cardigan.