Brecon Beacons dark sky reserve launches star count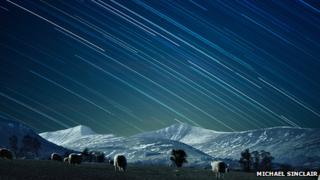 Brecon Beacons National Park has launched a star count to mark its first anniversary of being Wales' first International Dark Sky Reserve.
Last February the park was officially designated the world's fifth International Dark Sky Reserve.
One year on staff have asked people to count stars at night.
The campaign runs until 8 March amid spectacular displays of The Northern Lights in some areas of Wales..
The rare light displays are caused by electrically charged particles from the sun entering the earth's atmosphere and are usually only seen much further north.
The beacons were given the dark sky reserve status last year, joining a club which now has eight members.
The park has been certified as free of light pollution and an ideal site for star-gazing.
Star map
A Brecon Beacons National Park spokesman said: "The initiative helps monitor the extent of light pollution.
"You simply look up at the sky and count the starts you can see in the constellation of Orion with the naked eye any clear night until Saturday 8 March.
"Once the survey is complete, a star count map will be produced for the UK which will help us, and others, get a better idea of light pollution across the country.
The national park authority claims its dark sky status has boosted the local economy.
Funding development officer Ruth Coulthard, said: "For the last year we having been working very hard with our residents and tourism businesses and this has paid off in dividends.
"Almost everyone I have dealt with has seen an increase in visitors seeking dark sky experiences and some businesses have specially developed facilities for their guests to enjoy the night sky, with observatories and purchasing telescopes for customers to use.
"We have a record number of dark sky events being organised and sold out and three communities at Talybont and Crai, Hay on Wye and Llangorse, have even organised their own mini festivals."