Meeting over future of Aberystwyth allotments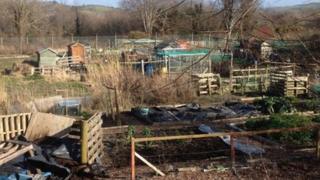 The future of an allotment site affected by heavy flooding two years ago will be decided next week.
Ceredigion council advised the 27 allotment holders in Penparcau, near Aberystwyth, not to cultivate plots at the site immediately after the river Rheidol burst its banks in June 2012.
Fears had been raised over possible contamination by heavy metals including lead.
A council-commissioned report will reveal the extent of contamination.
Parts of north Ceredigion had 5ft (1.5m) of standing water, with caravan parks, homes and businesses all suffering from the effects of the torrential rain on 8 and 9 June 2012.
Ceredigion councillor Mark Strong's wife is one of the site's allotment holders.
Specialist consultants
He said: "The day after the floods I contacted the council to raise concerns that silt and mud that had come from old lead mines based further up the river Rheidol had affected the allotments.
"The council then posted a notice advising allotment holders not to grow salad crops.
"I wasn't happy about eating anything grown at the site because there was a doubt in my mind that it might not be safe to do so."
Areas in the hills above Aberystwyth including Cwmsymlog, Cwmerfyn and Bancydarren were mined for lead in the 18th and 19th Centuries before the industry declined from around 1880, coming to an end at the start of the 20th Century.
A Ceredigion council spokesman said; "There are 27 allotments affected in Penparcau and the allotment holders have been advised not to cultivate their plots since the floods in June 2012.
"A report has been prepared by specialist consultants and a meeting with the allotments holders and other interested parties is currently being arranged to discuss the report's findings before it is released into the public domain."
'Contaminated material'
The spokesman added that the meeting would take place on 5 March.
The report was prepared by Dr Andrew Gillett of environmental consultants LQM.
A recent paper by Aberystwyth University scientists revealed that livestock died at a university farm in 2012 after eating silage affected by "colossal levels" of lead following floods from the river Clarach near Bow Street in north Ceredigion during the same floods.
The paper, which also studied flooding of the rivers Ystwyth, Leri, and Rheidol, said that "historical flood events, in a similar fashion to June 2012 will have delivered significant quantities of contaminated material onto areas that are now used for housing and, potentially, home grown vegetables".
It added: " Even when thoroughly washed, these allotment vegetables are likely to retain some fine-grained and contaminated material.
"However, further research is required to reveal the full extent home-grown, allotment production and soil contamination in the local area."