Llanfyllin councillors start 'Operation Lonely Tree'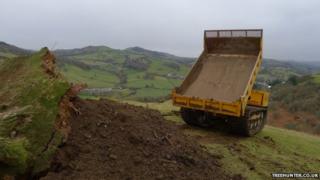 Work has started to try and save a Powys landmark - known as 'The Lonely Tree'.
The Scots Pine has surveyed the Llanfyllin landscape for at least 150 years - but was brought down by the 100mph winds that battered Wales.
The town council hope to keep the tree alive by covering its roots in soil.
The work started over the weekend by using a dumper truck and a team of volunteers.
The tree will also be fenced off to keep hungry sheep from eating its leaves.
Work to preserve - and potentially save the tree - got under way by covering two 'tap roots' to stop the tree from dying.
Sapling
It is hoped that it may also trigger what is known as a 'phoenix' reaction - where the tree is regenerated.
The tree is such a well known landmark in the area, that it is used as part of the logo for the town council's website.
According to local tradition, anyone planning to walk up Green Hall Hill should ensure they visit the tree and give it a hug.
Llanfyllin Mayor, Ann Williams said the tree would have to be left for a year to see if another sapling starts growing.
The tree stood on land owned by the family of town and county councillor Peter Lewis.
"The tree is important to many people and is a historical part of Llanfyllin and the Cain valley so we had to try and save it" he said.
"My family have had many requests from people all over the world who wanted to spread their loved ones' ashes near it.
'Phoenixing'
"The work done to cover the roots during the weekend at the start of Operation Lonely Tree was a terrific success with nearly 30 tonnes of soil used to protect the tree.
"We have to wait and see if the roots regenerate."
The town council has also consulted "tree hunter" Rob McBride, who is a campaigner for the protection of veteran, heritage and ancient trees.
"There is a definite possibility of saving the tree because here seems to be at least one large root still connected to it," he said.
"I have seen other trees that have been blown over survive including a redwood near Welshpool through a process called 'phoenixing' which now has three vertical stems growing from the original tree."
The town council has also launched an appeal fund for the tree. It aims to use the donations to protect the tree with a fence and to erect a plaque at the site.