Staffing problems cause care home to close temporarily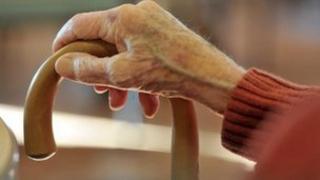 A residential home in Ceredigion will be closed temporarily because of staffing problems, the local authority has said.
Awel Deg Residential Home in Llandysul has room for 26 residents but currently has only seven people.
Ceredigion council, which runs the premises, intends to find them somewhere else to live.
A union claims the closure will lead to the start of a redundancy consultation for the home's staff.
Inspectors criticised the home in May last year for not having a structured activities programme.
The council said it had made interim arrangements to ensure continuing support and care was provided while it arranged the transfer of residents to another care home.
This will take place over the next week to 10 days.
The council said staff, residents and families were being provided with support, information and advice at all stages of the process.
It added that meetings were ongoing with unions to explore how it could ensure that members of staff were dealt with fairly.
Residents 'under-stimulated'
Ceredigion council leader Ellen ap Gwynn said: "This has been an extremely difficult decision, but a crucial one in terms of ensuring that our residents are safe and well.
"We will immediately begin the process of planning the care provision in the area with the intention of continuing to provide high-quality services to older people in Ceredigion."
A Care and Social Services Inspectorate Wales report in May last year criticised the home because "there was no structured activities programme being provided to people residing at the home".
The report followed an inspection visit a month earlier.
The report added: "People were observed sitting in lounges with the television on and it was stated they were unable to see or hear it adequately.
"The impact for people using the service is that they are under-stimulated, uninterested and not fulfilled."
The council said that the home was in the middle of a refurbishment programme which would continue "without further disruption to residents".
Unison's Ceredigion branch secretary Owain Davies said: "We have very strong concerns as to the impact of that decision on our members employed at the home, particularly as we were informed that the temporary closure of the home would lead to a redundancy consultation being initiated for the staff employed there.
"Unison is seeking further urgent talks with the management to try and resolve the situation and hope to see the home re-opened as soon as is practically possible so this important local service continues to be provided and so that there is continued job security for the staff employed there.
"We hope the day service provision that is based at the home will continue despite today's announcement."
Ceredigion council has been asked to comment.