Aberystwyth Football club unveils £13m stadium expansion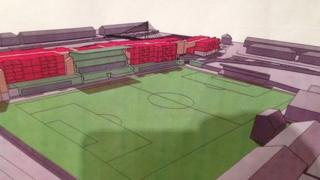 Aberystwyth Football Club has announced a £13m plan to transform the club's Park Avenue ground.
The club said it was working with housing association Tai Ceredigion to build a new 500 seat stand, clubhouse and restaurant.
Eighty flats would be built alongside the stadium in the project which is planned to start by September.
Club chairman Tony Bates revealed the plans at an extraordinary general meeting on Wednesday.
If it receives planning approval the project will also include community facilities, a youth centre and replacing the existing grass pitch with an artificial one.
But it could mean the club's supporters may have to make a 90-mile round trip for home games at Newtown's Latham Park next season.
Newtown
Mr Bates said: "Although there are a number of hurdles yet to be overcome, both Tai Ceredigion and Aberystwyth Town Football Club are committed to making this exciting scheme work.
"We are particularly excited about developing a community and youth hub because the town has needed this kind of facility for many years."
Mr Bates added that the new pitch would cost between £400,000 and £470,000 to install with the Football Association of Wales providing 75% of the funds.
"We've had discussions with Newtown Football Club and we are hopeful we can play our home games at Latham Park for a season or a season and a half if the building work gets the go-ahead," he said.
The move came a day after Aberystwyth Town achieved their best result in 21 years with a 6-0 away win at Afan Lido in the Welsh Premier League.
Steve Jones, chief executive of Tai Ceredigion, said project funds could be obtained from a number of sources including £800,000 from the Aberystwyth Strategic Regeneration Area Board, a bank loan, and a possible social housing grant from Ceredigion council.