Plans for Aberystwyth seaside hotel on hold after storms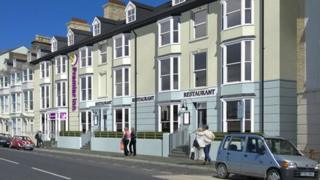 Plans to convert a derelict building into a 63-bedroom hotel on Aberystwyth seafront have been put on hold in the wake of heavy storms that battered the town's promenade.
Developer Opus North has decided to withdraw the planning application to convert the former Bay Hotel to a Premier Inn for now.
The company said it wanted to "take stock" of the situation.
But it intends to resubmit the application within the next two months.
Aberystwyth seafront was battered by storms in early January causing damage that has so far cost £150,000 to repair.
An Opus North spokesman said: "We decided to withdraw the planning application for now because we wanted to take stock of the situation and ensure we can reincorporate the design to prevent flooding.
Boarded up
"We intend to resubmit the application within the next two months."
The Yorkshire-based company intends to buy the building from Ceredigion Council on condition that plans to build the hotel and restaurant are approved.
A council spokesman said Opus North needed more time to fully assess the impact of the storms on the property and on any future plans it had for the property.
Nick Johnston, acquisitions manager for Whitbread Hotels and Restaurants which incorporates the Premier Inn chain, said the new development would create 25 jobs.
He added: "We anticipate the new application will be submitted in the spring and, if approved, hope to open to our guests early next year."
The former Bay Hotel has been boarded up since 2009.