Ceredigion floods caused lead poisoning cattle deaths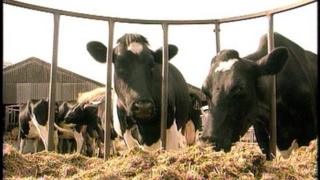 Cattle have been killed by lead contamination after flooding in Ceredigion two years ago, new research has found.
A paper published by Aberystwyth University scientists details how livestock died at a university farm in 2012 following the floods.
Storm water washed high levels of lead from disused lead mines onto grass which was then cut for silage.
It was then fed to 40 animals, three of which died from lead poisoning.
Aberystwyth University's director of farms, Professor Will Haresign, told BBC Radio 4's Farming Today the problem arose when cattle on the university's farm near Bow Street became ill in October 2012 after being fed silage cut after heavy floods in June that year.
Parts of north Ceredigion had 5ft (1.5m) of standing water, with caravan parks, homes and businesses all suffering from the effects of the torrential rain on 8 and 9 June 2012.
Mr Haresign said a post mortem examination revealed the animals that died had "colossally high levels" of lead in their livers and kidneys.
He added that the cause of the lead contamination had been in "small particles" of soil that had settled on the leaves of plants in the grass cut for silage but had not been washed away.
"Contamination of this sort would be specific to areas of the UK where heavy metal mining has been part of our historic past," he said.
Areas in the hills above Aberystwyth including Cwmsymlog, Cwmerfyn and Bancydarren were mined for lead in the 18th and 19th Centuries before the industry declined from around 1880, coming to an end at the start of the 20th Century.
The research paper published in Science of the Total Environment focused on four river catchment areas that experienced flooding in June 2012.
The paper revealed that water from the river Clarach that had flowed from the Cwmsymlog area flooded the university farm near Bow Street.
Prof Haresign said: "Our problem was that the floods occurred in the middle of the summer which is the period of maximum growth and we were unlucky.
"If we'd made the silage three weeks earlier we probably would have got away with it."
When asked about the recent spate of floods, Prof Haresign said: "There is a big difference between our experience and the situation that exists now.
"In the winter months livestock aren't there grazing and if there is contamination there shouldn't be a problem, as long as you aren't growing brassica crops to feed which do take up lead into the foliage."