Dyfi ospreys' perch felled by winds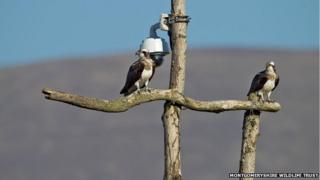 A perch used by one of only two known breeding pairs of ospreys in Wales will have to be rebuilt after being brought down by 100mph winds.
It comes a month before the Dyfi ospreys are due to return to their nesting ground Machynlleth.
Nature officers at the Cors Dyfi reserve must also replace a £3,500 camera smashed when the ash tree came down in storms a week ago.
The breeding ospreys, Monty and Glesni, are expected to return in late March.
Officials at the nature reserve say they have already obtained a larch tree to replace the damaged perch.
The ash tree was put in place in 2009 to let the two ospreys have a perch overlooking their nest, which is on a nearby telegraph pole.
The nesting pole was undamaged by the winds, which reached 108mph along parts of the north Wales coast.
A camera had been added to the perch to let visitors watch live streaming of the nest on the Montgomeryshire Wildlife Trust website
'Silver lining'
In 2013, more than 1.7m unique visitors logged on to watch the Dyfi Ospreys.
Osprey Project Manager, Emyr Evans, from the Montgomeryshire Wildlife Trust, said: "With every cloud comes a silver lining, because the ash tree that the ospreys use to perch on has crashed to the ground around a month before they are due back from their wintering quarters in Africa.
"That leaves us just enough time to get a new perch sorted and fundraise for a new camera.
"The breeding ospreys, Monty and Glesni, will be really chuffed when they return because their ash tree perch will have been upgraded to larch."
The trust's Dyfi Osprey Project attracted 31,000 visitors in 2013.
The first osprey chick in the Dyfi valley for 400 years hatched in 2011 and two chicks, Cerist and Clarach, hatched last year.