Volunteers and council agree bid to run New Quay library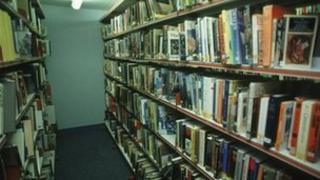 A town council has agreed in principle to take over a closure-threatened library after 25 people volunteered to run the facility.
New Quay Town Council are now negotiating with Ceredigion council over the lease and rent of the town's library.
It was due to be closed and replaced with a mobile library.
But town councillors have voted to back a campaign to keep the building open.
Members had previously been told it would cost £1,740 a year to run the library and pay for volunteer training.
Town and county councillor Gill Hopley said: "We have in principle decided to take over responsibility for the library from the county council.
Volunteers
"But we need to discuss the rent of the building and the length of lease with officers over the next few days.
"We are delighted that so many volunteers have come forward."
Ceredigion's council cabinet has also decided to close Tregaron library as part of its aim to fill a budget deficit of £20m in the next three years.
These cuts, along with reducing the number of the county's mobile libraries from five to four, and axing two jobs, will save the local authority £146,000 next year.
It plans to replace the six-day-a-week service in Tregaron with a mobile library three days a week.
But a plan to keep the library open with volunteers has also been hatched in Tregaron.
Locals have been told the town's librarian would be moved to work in Aberystwyth when the library closes.
But a public meeting in the town decided to ask council officers to consider the option of the librarian travelling to Tregaron three times a week with volunteers taking over for the rest of the time.
Ceredigion council has been asked to comment.