Lifeboat crew honoured for 'brave' Tresaith beach rescue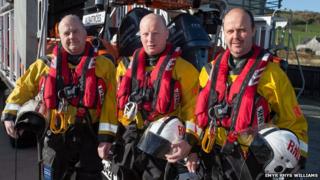 Three RNLI lifeboat members who saved two people trapped on a rocky ledge during a dramatic night-time rescue will be honoured for their bravery.
The stranded pair were at risk of being swept into the sea as waves crashed around them at the base of a cliff at Tresaith beach in Ceredigion last September.
Clive Williams swam to help them while Leonard Walters and Derek Pusey navigated lifeboats to the scene.
The RNLI praised their courage.
Two lifeboats based at nearby Cardigan were launched during the rescue mission.
Helmsman Leonard Walters steered the larger of the two vessels as close to the cliffs as possible during rough seas and gusting winds.
But unable to get close enough, Clive Williams volunteered to swim through the choppy waters in order to reach the pair.
He reached the rocky shoreline where he was knocked of his feet several times by powerful waves before he managed to reach the stranded people.
Mr Williams handed them life jackets as they waited for the smaller of the two lifeboats to reach them.
It took four attempts, including one which threw the lifeboat towards the rocks, but Mr Pusey managed to get the boat close enough to reach the pair.
They were transferred to the larger boat and both crews returned to shore at nearby Aberporth beach.
RNLI Operations Director George Rawlinson praised the crew's efforts.
"Through team work, skill and courage, Clive, Leonard, Derek and their fellow volunteers saved the two people and the rescue is a testament to their seamanship, commitment and bravery," he said.
Mr Williams will receive the RNLI's Thanks of the Institution inscribed on Vellum.
Mr Pusey, 49, and Mr Walters, 50, will receive framed letters of thanks from the RNLI chairman.