Welshpool plan to take over library and day care centre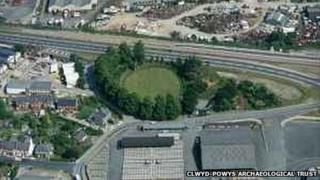 Welshpool town council could start running services which Powys council is considering axing - including the library and day care centre.
The town council has launched its third community plan aiming to retain as many public services as possible.
The 16-point plan for 2014-2017 also proposes opening two garden allotments, creating a cycle route and improving local CCTV coverage.
Residents in 3,000 homes have until 23 March to respond.
Town clerk Robert Robinson said: "This is a true consultation with the people of Welshpool about possible projects we could complete over the next three years.
"If the public say no to these ideas we won't do them, but if they say yes we will put them in the draft plan which will be approved by the town council in April."
Mr Robinson added that the consultation included proposals to help retain as many public services as possible "without putting undue pressure" on Welshpool taxpayers.
Powys council will decide its budget settlement plan to save £20m in the next financial year and £40m over the next three years on 25 February.
It includes proposals to save £250,000 by closing the county's eight centres for the elderly - including one in Welshpool.
A library services review which aims to save the local authority £350,000 in 2015-16 is another proposal.
"We have already taken on responsibility for the town's Tourist Information Centre, public toilets and playgrounds as part of our previous community plans," said Mr Robinson.
"We will wait and see what Powys council decide before we consider if library and day centre services are a priority."
Welshpool Town Council adopted its first community plan in 2007 and its second in 2010.
Completed projects include building five playgrounds, hosting councillor surgeries and taking over the town's motte and bailey castle site.