Llanfyllin tourist landmark tree felled by winds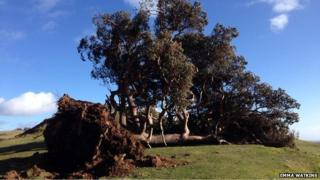 A tree that served as a Powys town's landmark for at least 200 years has been felled by the high winds that hit Wales last Wednesday.
The Lonely Tree which stood on Green Hall Hill near Llanfyllin was blown over by gales that reached 100mph in parts of the country.
The Scots pine is an attraction for walkers and its image is used on Llanfyllin town council's website.
The council will discuss plans to try and save the tree on Wednesday.
The tree stood on land owned by the family of town and county councillor Peter Lewis.
He said the town council would try and find out if there was any possibility of saving the tree, which is marked as The Lonely Tree on the area's Ordnance Survey map.
"The tree is important to many people and is a historical part of Llanfyllin and the Cain valley," he added.
"My family have had many requests from people all over the world who wanted to spread their loved ones' ashes near it.
"Some people think the tree could be saved because there are still roots in the ground."
Local legend has it that people intending to stay in the area must walk up the hill to give the tree a hug.