Talks over damaged Aberystwyth prom shelter's future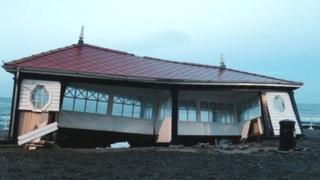 The future of a grade II-listed seafront shelter which was badly damaged during storms that battered Aberystwyth promenade will be decided next week.
The Bath Rock building was removed for repair after suffering severe damage in early January.
The shelter partly fell into a hole after its foundations were washed away by waves that pounded the seafront.
Heritage body Cadw and Ceredigion council meet on Friday for discussions.
In January Cadw told the council that it wanted the 1920s landmark to be repaired and replaced in its current position.
A Ceredigion council spokesman said: "A meeting with Cadw officers to discuss plans to return the shelter to Aberystwyth promenade will be held on 21 February.
"The council will be able to provide more detailed information about these plans after the meeting."
The council has said the cost of repairing Aberystwyth promenade and other locations in Ceredigion severely damaged by storms in early January was more than £1.5m.
In late January the Welsh government announced that Ceredigion would receive £560,000 to help pay for the damage.
The funding is anticipated to support tourism-related infrastructure projects within the county.
The council aims to completely reopen the promenade to the public by Easter.