Aberystwyth flats evacuated after high winds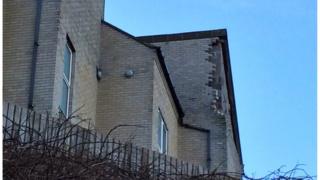 People in a 43-flat complex overlooking the harbour have been moved from their homes over safety fears after gales battered Aberystwyth.
Residents of Plas Morolwg, which is owned by Cymdeithas Tai Cantref, were moved to the local leisure centre.
One of the blocks in the complex of three was evacuated on Wednesday night, and a second block on Thursday, because of the danger from falling debris.
Winds of nearly 100mph caused damage throughout Ceredigion.
A Cymdeithas Tai Cantref (CTC) said engineers had advised them to vacate one of the blocks on Wednesday because "severe gusts" had taken down external facia and brickwork.
Monitored
A spokesman for the housing association said: "As wind gusts persisted we had to vacate the second block due to the danger caused by falling debris.
"All residents were assisted by both Cantref staff and the emergency services and given the option of alternative local accommodation.
"On assessment of the complex again this morning by engineers, it appears that falling debris still poses a danger to residents and we have been advised to evacuate the entire building.
"Again the emergency services are assisting and residents are currently being escorted to the leisure centre, from where they will again be offered temporary accommodation until we receive further information from engineers."
The spokesman added that progress would be monitored during the day and residents updated.
'Quite horrific'
Resident Michael Singleton said: "Last night we were told we couldn't go back to the flats due to them being evacuated and it being quite dangerous.
"I've just come back this morning and now I've been told I can't go back until further notice.
"Some of it is quite horrific. The front face outside one of the flat walls seems to have fallen off slightly leaving the bricks behind showing."
Another resident, Mike Petkovic, said he had decided to stay in his flat because it had not been affected by the high winds.
"The top of the building has been blown out and a section of the wall has collapsed," he added.
A Ceredigion Council spokesman said it had received almost 200 calls from the public as a result of the storm.
The spokesman said 84 trees had fallen in 69 locations across Ceredigion.