Hope Church takes over Newtown's Royal Welsh Warehouse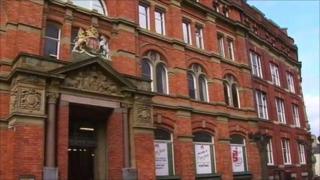 A historic building which housed a pioneering Victorian mail order business is set to become the temporary home of a church.
The Royal Welsh Warehouse, a listed red brick building in Newtown, Powys, was built near the railway station in 1879.
It will now house 300 members of Hope Church after planners agreed to part of it being used as a place of worship.
The building was the base for a home shopping call centre, a firm originally launched by Sir Pryce Pryce-Jones.
Powys council's planning committee agreed to a temporary change of use for an upper floor to be used as a place of worship.
"We have been looking for alternative venues in the town for some time and the Pryce-Jones building is an excellent location for us, being in a central position in the town and easily accessible," said Alan Hewitt, senior pastor at Hope Church.
"We use our current building all week with various activities for the community, including parent and toddler groups and children's clubs.
"It was always important to us to find a venue that would allow us to continue serving the needs of our town as best we could whilst our new build was under way."
The church has submitted plans to Powys council to demolish its current building and rebuild on the site, creating room for 600 worshippers.
If approved, the £3m project to build the new three-storey church will also include a restaurant, a children's play gym and conference rooms.
"We are still awaiting a decision from the council on our new building plans but assuming that we receive consent soon, we will be looking to move across to the Pryce-Jones building within the next two months," said Mr Hewitt.
Royal customers
In 2011 home shopping company Shop Direct closed its call centre at the building in Newtown with the loss of 163 jobs, marking the end of an era for mail order in the town.
It was started by Pryce-Jones in the 19th Century, and his customers included Queen Victoria.
The company, and its predecessor Great Universal Stores, was a major employer in Newtown for more than 35 years but there had been a continuous link with mail order for about 150 years.
Pryce-Jones started his career as a shop assistant, but soon after establishing his business he became a multi-millionaire responsible for 4,000 workers and 250,000 customers, supplying Queen Victoria and other European leaders.