Ceredigion meals on wheels price rise criticism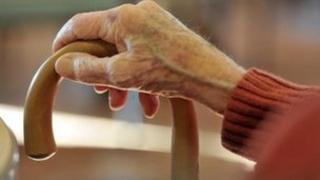 A charity supporting elderly people in Ceredigion has criticised the council cabinet for backing a 42% increase in meals on wheels charges.
The cost of the council meals at home and day care centres' meals on wheels lunches are set to rise from £3.50 to £5 from 1 April.
But Age Cymru Ceredigion has accused the cabinet of targeting the elderly.
The council aims to save £9.6m in the next financial year.
The cabinet rejected a call from the healthier communities scrutiny committee to charge £4 for the lunches.
Suppers will also rise in priced from £1.50 to £2.15 if the full council supports the cabinet's decision at a meeting on 20 February.
'Far too high'
On Tuesday the cabinet also backed a plan to raise its fees and charges from April which will bring £323,665 into its coffers next year.
The majority of council charges will increase by 10% from 1 April.
These include council car park fees, leisure centre charges and the price of school meals.
Age Cymru Ceredigion Director Gwyneth Jones said: "Elderly people are being targeted by the cabinet and they are the group that will be hardest hit if the council's savings plan is agreed.
"More than 4,000 people aged 65 and over live alone in Ceredigion and they will have the choice of paying for a warm meal or not putting the heating on."
'Unfair proposals'
Councillor Lyndon Lloyd is a member of the committee which criticised the £1.50 increase in meals on wheels charge.
"The increase in the cost of meals is far too high and I will ask for an amendment to reduce the cost at the full council meeting," he said.
"I will also ask for a recorded vote at that meeting so that older people who have voted for councillors will know which ones have backed these unfair proposals.
"In the end it is the full council and not the cabinet that will decide the budget for the next financial year," Mr Lloyd added.
Ceredigion council has been asked to comment.