Review of Newtown pub name change to Llywelyn ap Gruffydd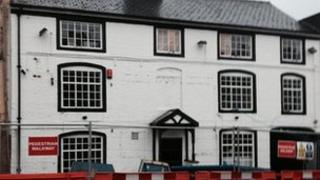 A decision to rename a Newtown pub after the last prince of an independent Wales will be reviewed after locals reacted angrily.
Pub chain J D Wetherspoon had decided to change the name of the Black Boy Hotel in Newtown to the Llywelyn ap Gruffydd.
A councillor said the pub should be named after an eminent local person, like the social reformer Robert Owen.
But the decision will now be reviewed after the outcry.
The company bought the 17th Century Grade II-listed pub last December and is carrying out a £1.5m refurbishment before it reopens in May.
But the decision to rename the pub after Llywelyn ap Gruffydd has upset some, according to Newtown county councillor Joy Jones.
Mail order business
"The people of Newtown are very traditional and many constituents have contacted me to tell me they want the old name to be kept," she said.
"They also feel that choosing Llywelyn ap Gruffydd is a strange decision because it is not a name that is associated with Newtown.
"They could have chosen to honour a number of famous locals such as the social reformer Robert Owen or Pryce Pryce-Jones, who started the first mail order business.
"One local said to me 'it is difficult enough to pronounce Llywelyn ap Gruffydd when I'm sober so goodness knows what it will sound like after a couple of drinks'."
Llywelyn ap Gruffydd built Dolforwyn Castle above Abermule near Newtown between 1273 and 1277 after capturing the Cedewain and Ceri areas.
Flannel exchange
This included the site where Newtown was founded in 1279 after Llywelyn lost his land to the royal forces of Edward I.
A JD Wetherspoon spokesman said the company did not tend to keep the existing names of pubs once they have taken them over.
He added: "We work with a company that works with local societies and historians that select a short-list of about five names before a name is chosen by the chairman and senior executives.
"We would not consider changing the name unless there was an outcry.
"But Wetherspoon's chief executive has now asked for the name to be reviewed."
The short-list included social reformer and one of the founders of the co-operative movement, Robert Owen, who left Newtown aged ten to become a draper's assistant in Lincolnshire.
Other names which were considered also include references to local Kerry Hill sheep whose wool made Newtown famous in the 19th Century, and Thomas Penson, who designed the town's Longbridge over the River Severn and the former flannel exchange.