Green light for Powys rail crossings closure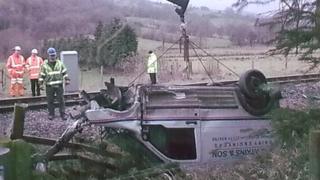 A plan to close a level crossing where a train hit a van leading to a court case has been given the go-ahead by planners.
The Network Rail project also includes closing another four level crossings between Talerddig and Carno in Powys.
The crossings will be replaced by two road bridges over the Aberystwyth to Shrewsbury railway line.
Network Rail said the project would take up to a year to complete once the detailed design work had been done.
Powys Council's planning committee backed the plans to close the crossings - which are within a mile of each other - and replace them with the road bridges and a new bridge over the River Carno.
The project will also involve building new approach roads to provide links for the new bridges, and creating a new access to the nearby A470 road.
A planning report said it was part of a plan to introduce an hourly service along the Shrewsbury to Aberystwyth line, and would also allow for the removal of speed restrictions along the line.
Pennant Jones and his family have to use the crossings a dozen times a day when travelling to and from their farm.
He said: "This is great news because we have been waiting for this decision since the idea was first mooted in 2011.
"We will be able to travel over the railway line which will be much safer, especially as train speeds have increased from 15mph to up to 60mph through Talerddig after Network Rail completed improvement works here."
Van driver Daniel Bellis from Oswestry suffered chest and back injuries after his vehicle was hit by a train at one of the five crossings - Pikins Crossing - in February 2012.
He was jailed for five months in June 2012 after admitting endangering the safety of people on the Shrewsbury to Machynlleth line by failing to call ahead to check if it was clear.
Enhanced service
Since 2010 Network Rail has invested £131m in a national level crossings improvement programme.
The closure of 174 level crossings in Wales means Network Rail has now reached its target of closing 750 of Britain's 7,500 crossings by April this year.
The majority of closed crossings are footpath or user-operated and on private land. They are largely used by land owners, farmers and delivery and utility vehicles.
Mark Langman, route managing director for Network Rail Wales, said: "We are determined to improve safety and reducing the risk that level crossings pose.
"Successfully closing a crossing isn't always a straightforward process, so we are really grateful for support from local authorities, landowners and the public to help us achieve our new target and improve safety further still."