Powys public toilets handover plan delayed a year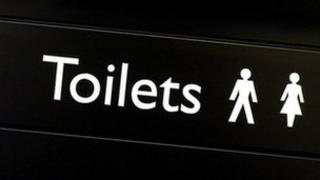 Plans to hand over public toilets in Powys to community groups have been put on hold until April 2015.
Powys council wants to transfer responsibility for 32 facilities to town and community councils.
The council said the move will give organisations more time to come up with plans for managing the toilets from next year.
The plan is aimed at saving £980,000 a year as Powys council faces budget cuts.
The move is part of the authority's plans to save £40m over the next three years in the face of reduced funding from the Welsh government.
The handover of public toilets was due to take place this April.
But six public toilets that have closed over the last year will stay shut.
Powys council leader Barry Thomas said: "We have seen with the recent discussions over public toilets that it is difficult for local organisations to take over responsibilities for services without a clear idea of what is involved.
"The current financial pressures mean we will be asking community councils, business groups and voluntary organisations to take on an even greater role.
"For them to succeed they need time to assess the financial and organisational implications.
"As a result we intend delaying full implementation of the toilet transfer initiative. The savings are still needed so those toilets already closed will remain closed and those discussions nearing a conclusion will be finalised."
Powys has 67 public toilets. Some are owned and operated by the Welsh government, others operated by community groups including town and community councils, and 32 operated by the county council.