Powys Citizens Advice Bureau fears over budget cuts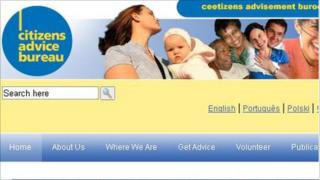 Powys Citizens Advice Bureau says 18 jobs and 34 volunteer posts are at risk from a council plan to cut nearly £100,000 of funding from the service.
Powys CAB claims offices in Newtown, Brecon and Ystradgynlais will close if the decision is made.
The charity has launched petitions opposing the planned cuts.
Powys council's cabinet will decide on the proposal to save £93,580 on 18 February, as part of its drive to tackle a £20m shortfall next year.
The local authority is facing a £40m funding gap over the next three years following a 4.5% cut in overall funding from the Welsh government.
'Lifeline'
Chris Mann, chair of the CAB's trustee board, said Powys CAB helped more than 6,000 clients in 2013 and secured £2.2m in welfare benefits for them.
"This money fed straight back into the overall economy of Powys," he added.
"Many thousands of people will be deprived of this lifeline to their rights if this most regrettable action is taken."
Mr Mann said the council's core funding provides the infrastructure for the bureau to bid for other contracts serving Powys residents which amounted to £336,000 for 2013-14.
He added that 18 paid and 34 volunteer staff could lose their jobs.
"If the council get their way to make a drop-in-the-ocean contribution to their budget savings, people will have nowhere to turn for help except to the council," said Mr Mann.
'Difficult decisions'
Darren Mayor, Powys cabinet member for adult social services, said: "One of the savings proposed is to cut the funding for general advice services currently commissioned by adult social care, which include all of the core funding that Powys Citizens Advice Bureau receives.
"Although we appreciate the valuable service Powys Citizens Advice Bureau provides, the council has to prioritise how it spends its scarce resources. "
Mr Mayor added that £5.3m will have to be cut from the adult social care service budget.
"Priority has been placed on front line services to people who meet the eligibility criteria and on specialist information and advice services to those group of people," he said.
"The council are being presented with some very difficult decisions, including cutting the funding for general advice services.
"Unfortunately, with the budget pressures faced by the council, it has not been possible to identify other funding streams from other services."
Powys cabinet will consider the proposals on 18 February and their recommendations will go before full council to set the budget on 25 February.