Ceredigion ambulance staffing level failures claim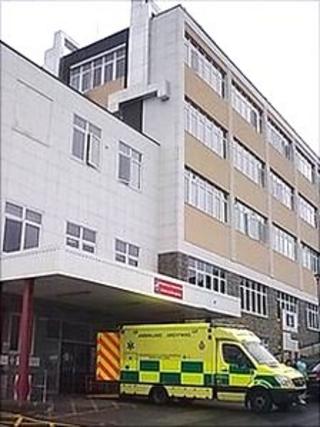 The ambulance service in Ceredigion is '"stretched too thinly", Plaid Cymru claims after a Freedom of Information (FoI) request revealed failures to meet staffing targets in the last three years.
The Wales Ambulance Trust response shows staff numbers below the contracted minimum of 60 since 2011.
Ceredigion AM Elin Jones has asked for a meeting with senior executives.
The trust said it had appointed two new paramedics in Ceredigion.
The Welsh Government has been asked to comment.
Figures obtained by Ceredigion councillor Paul James also show the number of staff on duty fell short of the expected cover on 182 days in 2012, and 161 days in 2013.
The information also confirms that Ceredigion ambulances are used to cover other areas such as Machynlleth in Powys and parts of south Wales following transfers of patients to larger hospitals such as Morriston in Swansea and Glangwili in Carmarthenshire.
Mr James said: "These figures show the service is stretched too thinly and that staff and patients are right to be concerned.
"Ceredigion is meant to be covered by 60 whole time equivalent members of emergency staff but there's been a fall in staff since 2011 and the numbers employed have been below this level ever since.
"The level of staffing fell below the expected cover for nearly half the days during 2012 and 2013."
The ambulance service has confirmed in its response to Mr James that vehicles from Ceredigion cover other areas including the transfer of patients to hospitals such as Morriston and Glangwili.
Mr James said; "I can understand that the closest vehicle should respond to an emergency, but we need to be very careful that we don't end up short of cover here.
"There are far more transfers out of Ceredigion that there are of patients from other areas of Wales into Bronglais Hospital in Aberystwyth so there's a danger this arrangement is a one-way street if we don't get additional cover to compensate."
Ceredigion's AM and Plaid Cymru shadow health minister Elin Jones said she had asked for a meeting with senior executives at the ambulance trust to discuss the issue.
Judith Hardisty, the ambulance trust's executive director of workforce and organisational development, said: "We recognise on occasion that some shifts may go uncovered and this is for a number of reasons, including vacancies, sickness, annual leave and training, or we may actually choose not to cover a particular shift if the demand is anticipated to be lower.
Peak periods
"When this happens, we ensure that staff who are on duty are moved across the region to be in the best position to respond to 999 calls.
"We are pleased to report that we have two newly-recruited paramedics now working out of Ceredigion."
Ms Hardisty added that a trust-wide roster review was under way which would "better align resources" to match peak periods of demand.
"Ambulances are required to transport patients to the most appropriate hospital, and this might mean a specialist centre outside of the health board area," she said.
"In the event of a life-threatening call, we will dispatch the nearest available resource which on occasion may be a Ceredigion ambulance operating outside of the Hywel Dda University Health Board area.
"Additionally, this means that other resources are used to cover Ceredigion when the need arises."