Volunteer plan to avoid New Quay library closing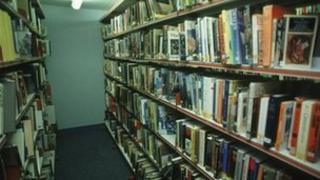 A Ceredigion library threatened with closure could be thrown a lifeline if enough volunteers come forward to run the service.
New Quay Town Council are considering operating the library after Ceredigion council's cabinet decided to replace it with a mobile library.
But a plan to keep it open with volunteer help is now on the table.
The town council will vote on the library's future at a meeting on 17 February.
Members will decide if the town council is willing to pick up the £1,740 annual cost of running the library and pay for volunteer training if enough volunteers are found to run the library.
Town and county councillor Gill Hopley said: "We need to see how many volunteers will be willing to keep the service open because it will mean a lot of commitment and dedication to do the work."
Budget deficit
Mrs Hopley added that Ceredigion council was willing to continue supplying books, CDs and DVD for the library.
Sharon Evans, who helped organise a 600-signature petition opposing the closure said she was confident that enough volunteers would be found to run the library which opens for 10 hours over four days a week.
She added: "It will be up to the town council to decide if it can afford to keep the library open as well as paying £200 a time to train each batch of four volunteers."
The council's cabinet also decided to close Tregaron library as part of its aim to fill a budget deficit of £9.6m in the next financial year.
These cuts, along with reducing the number of the county's mobile libraries from five to four and axing two jobs, will save the local authority £146,000 next year.
It plans to replace the six-day-a-week service in Tregaron with a mobile library three days a week.
But a plan to keep the library open with volunteers has also been hatched in Tregaron.
Locals have been told the town's librarian would be moved to work in Aberystwyth when the library closes.
But a public meeting in the town decided to ask council officers to consider the option of the librarian travelling to Tregaron three times a week with volunteers taking over for the rest of the time.
A Ceredigion Council spokesman said the annual cost of £1,740 for the town council to run New Quay library would include paying the county council £200 for IT support and £480for internet connectivity.
No decision had yet been made on the future of Tregaron library, he added.