Newtown Town Council to stay at Victorian headquarters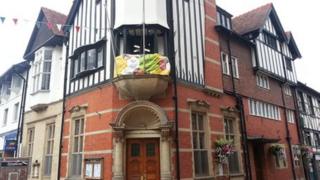 A town council in Powys has voted to stay at its current headquarters after deciding to spend more than £8,000 to bring the Victorian building up to fire safety standards.
Newtown Town Council has also agreed to revamp the town hall to make it more accessible to the public.
It had been thought the town council would have to move to a new home because of the safety fears.
Its meetings have been held in other venues over the last two months.
Council staff have also had to use another location in the town since 17 January.
The town hall building at The Cross also houses a museum honouring the social reformer Robert Owen, who was born in Newtown.
'Community use'
The council will share the ground floor of the building with the museum once it re-opens later this year.
Mayor Rina Clarke said: "It is a great building left for the benefit of the community and we hope to return to it at the end of March or start of April once the maintenance work finishes.
"We have decided to move to the bottom floor to be more accessible to the public which will also enable us to free up space for community use in the future."
The building was left to the council with instructions that it should be used for the community, with a trust established in 1998 to ensure this proviso.
In October last year the town council was told the fire alarm system in the 19th Century building needed upgrading.
It had explored the possibility of using one of Powys county council's buildings before deciding to upgrade its present headquarters and stay there.