£5m dementia nursing home in Newtown to create 70 jobs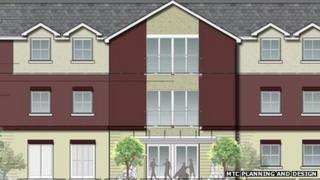 Up to 70 full-time jobs could be created by a £5m project to build a nursing dementia care home on the site of a pub in Newtown.
Powys planners have given the go-ahead for the 70-bed home to be built on the Llanidloes Road site after the Flying Shuttle public house is demolished.
The project also includes a building that will be used by the community for functions.
The developer hopes to open the home by the end of 2015.
A planning report said the owners of the Flying Shuttle, Punch Taverns, had decided to sell the pub because there were 18 other licensed premises within 1.6 miles (2.6km) of the tavern.
David Wormald, director of developer Care Developments (Newtown) Ltd, said there was a need for a nursing care dementia facility in the area.
'Community facilities'
"There are two care homes in Newtown, one of which provides some nursing care, so Powys Council's social services department are supportive of our plan to provide nursing dementia care in the area," he said.
"We will now move ahead to seek funding for the development.
"We hope to start work by the end of 2014 and open the facility by the end of 2015 although we aim to improve this timescale.
"We believe the £5m project will eventually create about 70 full-time jobs."
Montgomeryshire Assembly Member and Newtown county councillor, Russell George, said there was a "real need for further nursing home facilities in Newtown so people do not have to travel long distances to visit family".
He added that the proposals for new community facilities would be a boost for the area.
"There is a lack of community facilities in the Vaynor area which is a concern, but following discussions with the developers and other county councillors the company has agreed to incorporate facilities for Vaynor community groups to use," he said.