Llanidloes Hospital patients to be moved during upgrade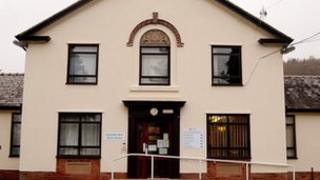 Patients in a 16-bed ward at Llanidloes Hospital will be moved elsewhere during a £60,000 upgrade.
Powys Health Board said the patients will go to hospitals in Welshpool and Newtown.
Other services will continue as normal during the refurbishment between 3 March and 1 April.
Llanidloes county councillor Gareth Morgan said he would be keeping a very close eye on the situation.
Physiotherapy services will be relocated to Newtown and other outpatient services will be moved to either Machynlleth or Newtown.
The maternity unit will continue to run clinics from Llanidloes but women will have the choice to either give birth at home or at one of the other birth centres in Powys.
Removing asbestos
The health board said all affected patients have already been contacted to explain the arrangements.
The day hospital, occupational therapy, health visiting, district nursing and other specialist areas which use the hospital as a base will be unaffected.
The upgrade will involve replacing windows, removing asbestos from the building, testing wiring and improving the emergency lighting.
Peter Skitt, the health board's locality general manager for north Powys, said "I am very grateful to the community for their patience and understanding while this essential work is carried out."
Councillor Gareth Morgan said he will be monitoring what happens during the refurbishment with the town council.
"We expect to receive a full timetable of the repair programme as soon as possible," he added.
"The most important issue is to ensure beds are found for patients at other hospitals."