Flooding traps vehicles near Llandrinio Bridge, Powys as river swells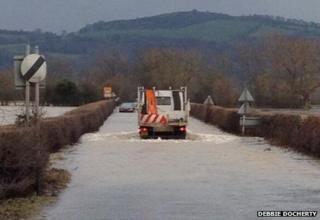 Fire crews have rescued three vehicles trapped in flooding in Powys as river levels rose to a near record high.
They were stranded in the waist-deep water near Llandrinio Bridge at around 06:50 GMT on Wednesday.
Fire crews were sent from Welshpool and Aberystwyth but they have now left the scene. No one was hurt.
The river level at Llandrinio had reached 6.6m and the highest ever was 7.19m. The typical range is between 1.22 and 5.14m.
Natural Resources Wales said the river levels were expected to peak in the next few hours.
There were two flood warnings and seven flood alerts in place across Wales as of 12:00 GMT.