Takeaway driver Ala Udin not banned with 29 penalty points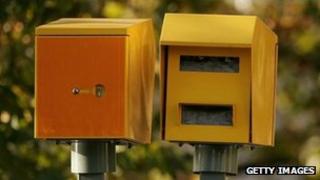 A takeaway driver with 29 penalty points on his licence is still allowed to drive, a court has ruled.
Ala Udin, 44, admitted a string of motoring offences before magistrates in Aberystwyth last week.
He had 11 points on his licence, and was handed another 18 after admitting driving with a defective tyre, speeding and two counts of having no insurance.
However, magistrates did not disqualify him after Udin said he would lose his job and make his family homeless.
He told the court his family would not be able to meet mortgage payments if he lost his job.
'Mitigating circumstances'
A court spokeswoman said: "At a hearing on January 16 in Aberystwyth Justice Centre, Ala Udin admitted a string of driving offences in which he was given 18 penalty points.
"No disqualification order was made following mitigating circumstances."
Udin, of Ffos-y-ffin, was also ordered to pay £616 in fines and costs.
The points will stay on his licence for four years.
According to recent DVLA figures, only five people in Britain have been allowed to keep their licence with 30 points.
One driver is on 31 points, while two others are on 34 and 36.
One motorist from the Liverpool area, was allowed to continue driving with 45 points.