Powys EE mobile network blackout hits hundreds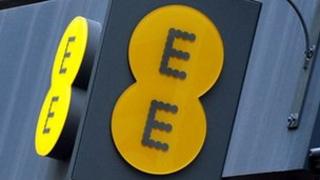 Hundreds of people in north Powys have not been able to use their mobile phones for the last four days.
The problem has hit customers using the EE network which includes Orange and T-Mobile.
Local people have criticised the company for not providing information on the network blackout.
3G services have not been available since last weekend in the SY21 and SY22 postcode areas which include Welshpool, Llanfair Caereinion and Llanfyllin.
EE said its engineers were working to "fix a technical fault".
Antony Jenkins, Welshpool store manager of mobile phone shop Get Connected, said he had been inundated with requests from customers about the network failure.
Card payments
"It has been difficult for me to contact a lot of our customers because their mobile phones don't have a signal," he said.
"The signal is intermittent in Welshpool but there is a total blackout in other rural areas.
"This has affected all generations of mobile phones because the SIM cards' signals will have been affected."
Susanna Lindsey of the Health Focus shop in Welshpool said: "This has caused us problems because our card machine which uses a mobile signal doesn't work.
"We've had to ask people to go to cashpoint machines to get money to pay us which hasn't gone down well."
Llanfyllin town councillor John Brautigan said he had been without mobile coverage since last Friday.
He said: "One of my friends is a district nurse and she is not being able to get instructions through in the area.
"It is very disappointing the company has not provided customers with information and we can't contact them on mobiles because there is no signal."
'Matter of urgency'
Valerie Lea from Dolanog said she had been affected by the blackout.
"I am extremely concerned that we have received no information about how long it will take to restore the network.
"This could affect a lot of businesses including farmers who need to keep in contact with people when they are working in the fields."
3G technologies enable faster data-transmission speeds, greater network capacity and more advanced network services.
A spokesman for EE said: "We are aware that some customers in mid Wales are experiencing signal issues due to a technical fault.
"Our engineers are currently investigating as a matter of urgency and we apologise for the inconvenience caused while we work to fix the issue as quickly as possible.
"Customers can contact our customer services number by land line if they cannot dial 150 on their mobile phone."