Consultation on Brecon Beacons bus service facing axe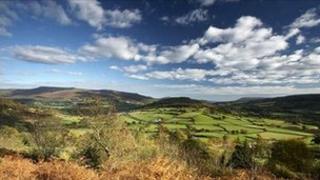 A bus service used by thousands of visitors to the Brecon Beacons could be axed as part of budget savings of £650,000 over the next two years.
Brecon Beacons National Park Authority faces a budget cut of 8.9% from the Welsh government next year.
It has launched a public consultation over the future of Beacons Bus, which brings passengers from Cardiff, Newport and Swansea on summer Bank Holidays.
A ramblers group said "all avenues" must be explored to try and keep it.
The authority said it needs to make savings of more than 13% over the next two years, which prompted a review of its services.
It has 130 staff and has responsibility for planning issues and managing the national park, which attracts 4.15m visitors a year.
'Disappointed'
It also aims to cut eight posts as part of its savings plan.
Beacons Bus brings passengers into the area from nearby towns and cities including Cardiff, Newport, and Swansea on Sundays and bank holidays between May and September.
The service has been running more than 10 years and is funded by the authority and Powys council, as well as partner organisations such as Natural Resources Wales and the National Trust.
Axing the service - which was used by 5,552 people last year - would save the authority £26,000.
Julian Atkins, director of countryside and land management for Brecon Beacons National Park Authority, said: "We understand how very disappointed many of our regular passengers will be at this proposal and would like to thank them very much for their support over the years.
"Even if Beacons Bus has to be lost, passengers would still be able to travel to the national park and enjoy a day out using the current weekday bus services.
"We have been working to promote these recently including, for example, creating a range of leaflets outlining the destinations and attractions along the T4 bus route from Cardiff to Brecon and Newtown and along the X63 from Swansea to Brecon."
Angela Charlton, director of Ramblers Cymru, said: "Losing a bus service on weekends and bank holidays, the times when many have the opportunity to walk would be unfortunate and we would hope that all avenues are explored to ensure that access to one of the most popular areas in Wales is maintained."
The consultation period ends on 12 February.
The Brecon Beacons National Park covers an area of 1,347 sq km (520 sq miles) stretching from Hay-on-Wye in Powys to Llandeilo in Carmarthenshire.