Aberystwyth replacement bandstand put on hold after storms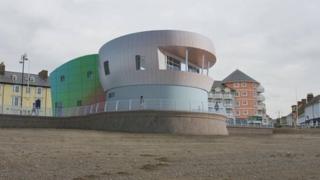 A £1m project to replace Aberystwyth's bandstand has been put on hold in the wake of the storms that ravaged the town's promenade earlier this month.
Aberystwyth Regeneration Area Board had backed the scheme earmarking the money for the new building.
The current structure has been a prominent landmark on the town's seafront since 1935.
Ceredigion council said the project is now being reviewed.
In February 2013 the regeneration board backed a move to build a new bandstand, providing £130,000 for a structural investigation for a two-storey building that would also include a cafe.
The board also approved capital funding for building works of £918,750 subject to planning approval.
Washed away
Initial designs for the proposed replacement bandstand were revealed in October 2013.
But there are concerns it would not be able to withstand a pummelling from waves like the exceptional storms that hit the seaside town between from 3 to 6 January.
A Ceredigion council spokesman said: "As part of the response to the recent storms and damage to the promenade in Aberystwyth we will be reviewing the proposals to redevelop the bandstand."
The Grade II-listed seafront shelter which was badly damaged during storms on 6 January is being removed and repaired.
The Bath Rock building on Aberystwyth promenade partly fell into a hole after its foundations were washed away as massive waves pounded the sea front.
The Welsh government named Aberystwyth as a regeneration area in October 2009 and it was awarded £10.3m in March 2010.
Projects which have already benefited from the fund include a circular road linking Aberystwyth University and the National Library of Wales, and a bus service which opened in 2012.
A scheme improving access to the railway station and an area for buses received £1m in 2011.