Criticism over lack of detail on Lake Vyrnwy estate future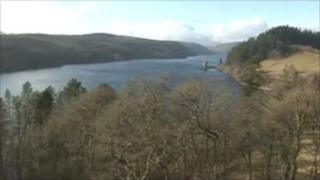 The owners of Lake Vyrnwy estate in Powys have been criticised for not keeping local people informed about future plans for the 17,000 acre site.
Llanwddyn community council claims land owner Severn Trent has ignored requests for a public meeting on the water company's future strategy.
But Severn Trent said it was developing a longer term plan which it would consult the local community about.
The estate, valued at £11m, was withdrawn from the market in June 2013.
The proposed sale of the estate was announced in 2010 - and was described as the biggest in living memory in Wales and England.
A year later, United Utilities and RSPB Cymru were announced as preferred bidders for 12,000 acres of agricultural holdings on the estate, while FIM Sustainable Timber and Energy LP was named the preferred bidder to develop the 5,000 acres of commercial woodland.
But United Utilities pulled out of the sale which led to Severn Trent Water taking all the land off the market in June 2013.
Andrew Johnson, chair of Llanwddyn Community Council said: "Since the sale fell through and the estate was taken off the market in May 2013 things have only got worse.
"There is no communication with the people that live and work in the area despite requests for a full public meeting."
The council has called on Severn Trent Water's chief executive, Liv Garfield, to visit Lake Vyrnwy to meet with the community.
'Community updated'
Mr Johnson added: "We are not looking for Severn Trent Water to spend millions of pounds, just to be fair to the people who live and work in the area relying on visitors to the estate.
"A clean, tidy, well-presented and managed estate working alongside and in partnership with existing organisations whilst encouraging investment and growth for one of Wales most natural and beautiful areas is all we ask."
But a spokesman for the water company said it continued to work with the local community in Lake Vyrnwy.
"There are long standing management and tenancy agreements in place which have not changed," said the spokesman.
"Since the estate was taken off the market, we have kept the community updated.
"Our aim is to make sure the estate continues to be a very special place to live, work and visit.
"The proposed meeting with the council was postponed because we're developing a longer term plan which we will invite the local community to consult on in the spring."