Brecon soldier jailed after stealing night-vision goggles to sell on eBay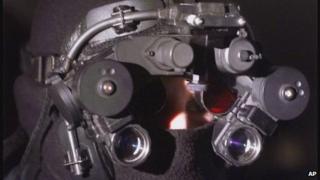 A soldier who stole night vision kit from a military base and tried to sell it on eBay has been jailed.
Sgt Maj Steven Barratt, 29, from Liverpool, admitted the theft of 28 hi-tech goggles from Ministry of Defence stores in Brecon, Powys, Merthyr Crown Court heard.
The kit was found listed on eBay with one set on sale for £2,300.
Barratt, who was dishonourably discharged from the Army last month, was jailed for 20 months.
During the hearing, the court was told the items had logistical and financial worth to the Army.
Prosecutor Nick Gedge said: "It was the sort of equipment about which there is concern about them falling into the wrong hands.
"These were hi-tech high quality pieces of equipment that should not be in any other but military hands."
'Gravest danger'
Barratt had taken the items from the Dering Lines infantry battle school in Brecon, Powys.
He removed the external serial numbers of the goggles before putting them on eBay. One listing quoted a price of £2,300.
When police examined them they found internal numbers were intact and matched the stolen items, the court heard.
Barratt, an Afghanistan veteran who had served five tours of duty with the Army, admitted theft.
Alexander Greenwood, defending, said: "He has been exceptionally stupid and it was a decision he will live with as a soldier and regret for the rest of his life.
"He has ruined his life by virtue of his conduct on one night."
Sentencing Judge Patrick Curran QC said: "You had been a first class soldier and had conducted yourself with a high degree of distinction in the Army.
"You have been exposed to enemy fire and have been in the gravest danger in many places and at many times.
"You have acted with conspicuous devotion to duty serving your country in the most difficult circumstances.
"It is extremely possible that your judgement may have been affected."
An Army spokesman said: "Security measures in light of this incident have been addressed accordingly."