Portable cabin may replace closed Cardigan post office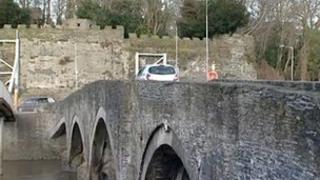 A Ceredigion post office which has been closed for four weeks may be replaced by a portable cabin in the short term.
Cardigan post office closed without warning five days before Christmas with customers having to travel two miles to access the nearest service.
But the Post Office has now started talks with Ceredigion Council to set up a temporary cabin in the town.
The council said it would try to help the post office in any way it could.
The Post Office said the High Street branch had closed due to "unforeseen circumstances" when it shut its doors on 20 December.
Last week Cardigan Town Council wrote to the Post Office to ask for replacement facilities.
'Mobile unit'
Community leaders claim the people of Cardigan have been left high and dry and have called on the Post Office to install a mobile unit there for the past month.
Customers have had to travel two miles over the river Teifi into Pembrokeshire to use the St Dogmaels branch or venture north seven miles to use the Tanygroes branch.
Cardigan county councillor Catrin Miles said: "Many customers have had to undertake a time-consuming journey by public transport and wait between 20 minutes and an hour for the return bus.
"A mobile unit should be installed as soon as possible."
A Post Office spokesman said a "range of options to restore service" was being considered.
He said: "We are committed to maintaining services in the area."
The spokesman said they were exploring the possibilities of placing the temporary Post Office in Cardigan with the council, adding: "The bus service introduced to assist customers visit our St Dogmaels branch to access service remains in operation and is being well used by local customers."
A Ceredigion Council spokesman said: "We are aware the Post Office is considering options for its services in Cardigan and we are willing to help in any way we can."