New Powys council brings back three axed councillors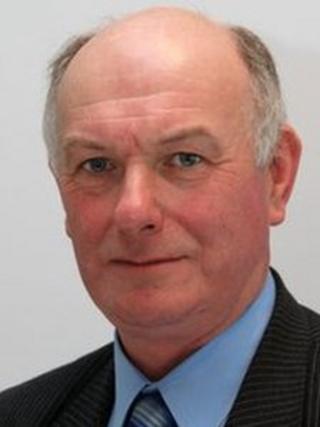 The new leader of Powys Council has re-instated three axed councillors to serve in his new nine-strong cabinet.
A political battle at the independent-run council led to leader David Jones being ousted in a vote of no confidence on Friday.
Ex-council chairman Barry Thomas succeeded him.
He has brought back Myfanwy Alexander, Graham Brown and Garry Banks, who were sacked by Mr Jones.
They defected with others to form the Independent Group (IG) led by Mr Brown.
'Clear mandate'
A no confidence motion in Mr Jones' leadership was launched by Mr Brown and Ms Alexander in the wake of Mr Jones's decision to join the Powys Independent Alliance (PIA) in December, which until Friday held all 10 cabinet posts.
Ms Alexander, Mr Brown and Rosemarie Harris will now serve as Mr Thomas's deputies.
The new cabinet includes five members of the IG and three members of the Non-Political Group which includes council leader, Mr Thomas,
"For the first time ever I will be working with a leadership team comprising of Myfanwy Alexander, Graham Brown and Rosemarie Harris - all deputy leaders," said Mr Thomas.
"The three have considerable cabinet experience and their knowledge will be crucial to help bring stability to the council.
"I am grateful to members of the council for their support and the very clear mandate they gave me to lead this council.
"As a cabinet we are committed to providing open and honest decision making and to working with other group leaders in the interests of all our residents.
"Our focus has to be on future service delivery."
The new cabinet is:
Barry Thomas: Leader and portfolio holder for Waste Management
Myfanwy Alexander: Education and Children's Services
Graham Brown: Commissioning and Procurement
Rosemarie Harris: Regeneration and Planning
Garry Banks: Property and Assets
Dai Davies: Finance
Steve Davies: HR, IT and Communications
Darren Mayor: Adult Social Services
John Powell: Highways and Environmental Health
The battle was set agains a background of Powys council facing budget cuts of £40m over three years.
In December it announced a four-pronged approach to tackle a £20m funding shortfall in the next financial year which could lead to 300 job losses.
The plan includes service cuts, a possible hike in council tax, and increasing service charges.
It also aims to replace some staff by providing automated services.